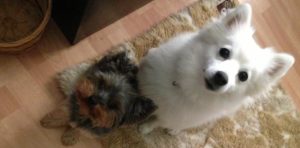 Learning in the comfort of a home.
Board and Train programs involve your pet staying overnight at The Polite Pooch for multiple nights.  The length of time required will depend on your goals for your dog along with your dogs personality.  The focus during a Board and Train is solely obedience work.
Obedience work here is a very advanced sit, heel, down and come, on the leash.  If your dog does well on leash, you can transfer the training to off leash control.  The purpose of obedience work is to teach your dog how to listen and perform commands as if they are a job, giving some dogs confidence and something to 'do'.  Once your dog has a solid foundation of obedience, he will be more attentive and have more focus.
Board & Train programs include at least one hour long follow up lesson with you and your dog. More follow up lessons are recommended.  The cost is approximately $100 per day.  At this time, a two day stay is most widely offered for walking on a leash (HEEL).
Not all dogs are suitable for a Board and Train program.  An in home Private Training lesson with Andrea is often required before enrolling a dog into this program.  If you are looking to work on manners in the home such as teaching your dog to stop jumping on people, greetings at the door, nipping, or barking, this program is not for you. A home visit is needed for manners.  For all dogs that come for regular overnight care, manners are always enforced during their stay.