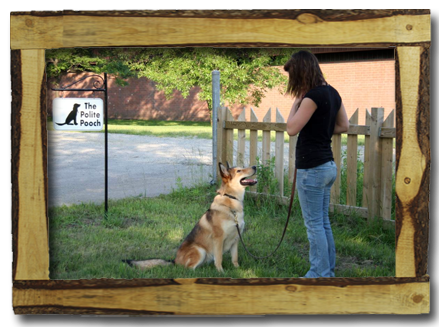 In the comfort of your home.
We all have different goals for our dogs, and every dog learns and responds differently to training. Working one-on-one allows me to focus solely on you, your family and your dog making adjustments as needed in real time.  Private lessons can be done in your home or at The Polite Pooch in Uxbridge. Private training allows me to accomplish more with you and your dog in less time compared to a group setting.
A balanced training approach is used and customized to what works best for you and your dog. Ultimately, we are trying to open the lines of communication between you and your dog, in turn allowing for more peace and harmony within your home.
The first time that I meet with you there is a bit of information to cover.  My goal in this initial lesson is to try to give you a good enough sense of how to approach your training so that you can make progress right away.   I also need to get a sense of you, your dog and find out what your goals are so I can adjust what is needed accordingly.   The first meeting typically takes close to 2 hours.  For some, this is all thats needed. Others may want to pursue further guidance and training after that and those lessons are done as needed.  Follow up advice via e-mail or phone is free of charge. 
Initial lesson in your home: (Approx. 2 hours) $280 (extra fees may apply for further travel)
Follow up Phone Calls and E-mails: FREE
Follow up lessons in your home: $80 + driving expenses if out of town.
Follow up lessons are approximately 45 min – 1 hour and more hands on than the first lesson.  Since we have already discussed what needs to be done and had a bit of practice, we can work more on putting it into practice and perhaps dive in a little deeper.  Follow up lessons can be done at your home, in the forest, at the dog park, or wherever we decide your dog needs work.