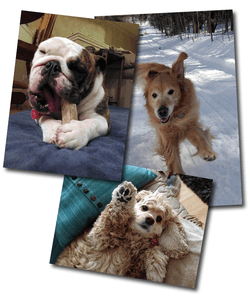 From your Home to Mine. 
Dogs that stay overnight are welcome in my home in a designated dog area. The dogs are given daily walks in the forest or in town.  The day is a filled with a serious of alternating exercise/socialization, and rest. When resting, dogs may or may not be separated from each other with crates. This decision is dependant on the nature of each dog as well as the group they are a part of.  When in doubt, safety is my #1 priority.
Rules and manners are instilled while they are here. Your dog will not return home with worse manners.  Dogs who are elderly or nervous are welcome to have extra quiet time and/or extra human companionship away from the pack.
The environment here very relaxed, barking is to a minimum and there are a small number of guests.  Dogs are provided with plenty of exercise and stimulation throughout the day            along with chances for rest and quiet in between.
There is no daycare service.  
What to Bring for Overnight Care.
Enough Food for your Pup (avoid bringing an entire large dog food bag please)
Forms (Forms will be sent upon booking)
Beds, toys, & bowls are provided.
If you feel that your dog will be more comfortable with their own bed or toys you are welcome to bring them.  Keep in mind that if you do bring these items, there is no guarantee that they will return in the same condition that you brought them in.  From time to time toys get lost or destroyed and beds can become dirty.  This is extremely rare, but must be mentioned. 
As we go through a lot of our own toys and beds, we are always happy to take in any blankets/towels, beds or toys that your pup no longer needs. 🙂
For overnight care pricing, please click here.